Led by two passionate industry professionals, answer. offers a comfortable setting where our guests can connect with one another while indulging in flavors from here and there.
Our menu is globally inspired and hyper-seasonal. Drawing inspiration from a multitude of cultures, Chef Chris Raucci prepares versions of classic dishes with innovation.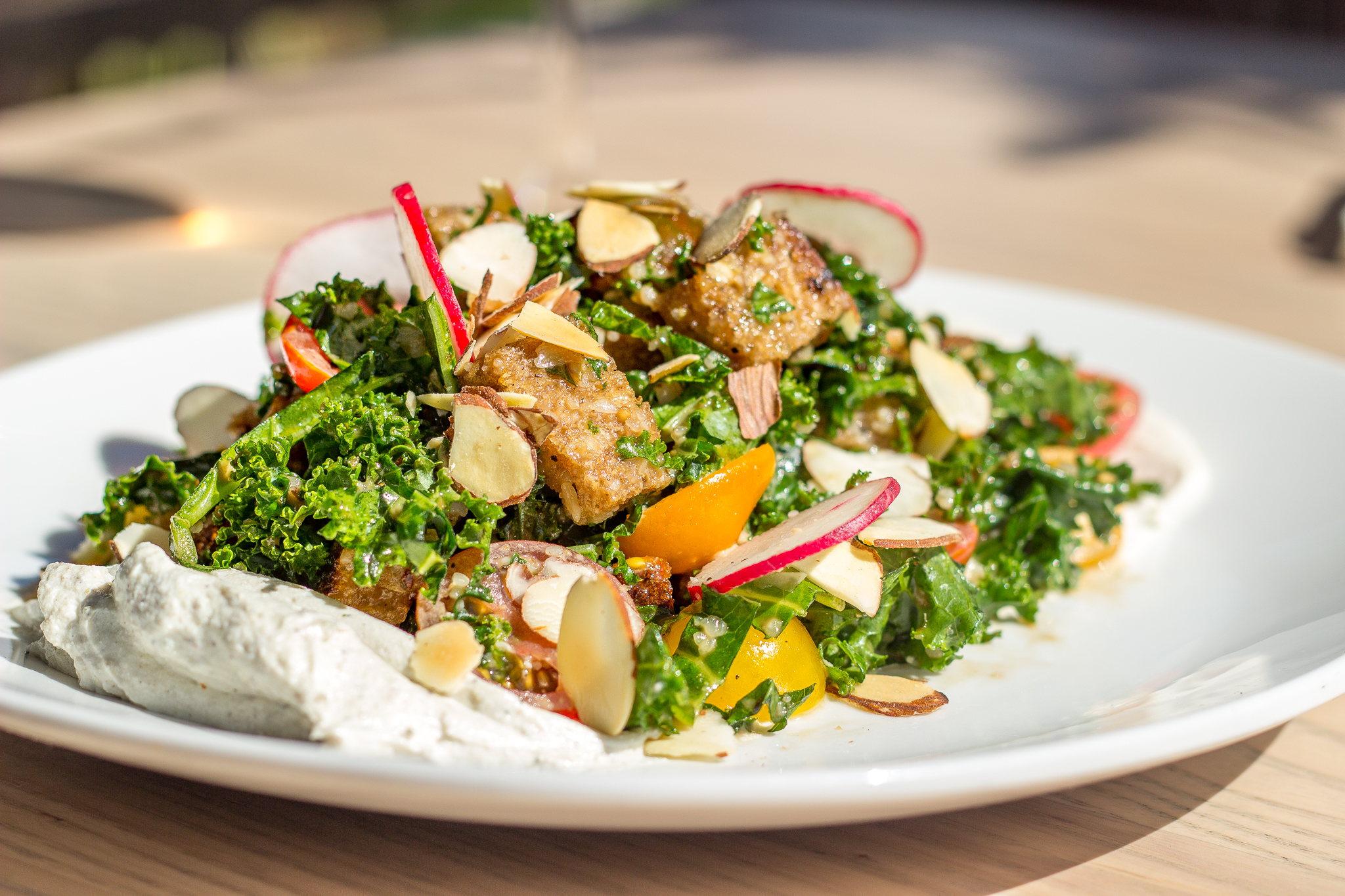 Chris Raucci, Owner & Executive Chef.
Chef Chris received his culinary training at Johnson & Wales University, graduating magna cum laude, and began his professional career in Atlanta at the award-winning, four-star City Grill. He served as Executive Chef at Killer Creek Chop House, his family's popular Italian Restaurant, Raucci's, in Charlotte, and operated a highly successful personal chef business in Seaside, Florida. In 2003, he joined Ted's Montana Grill as Corporate Executive Chef where he oversaw all culinary training, research and development, special events, new restaurant openings, and innovation of new menu items. Chef Chris has shared his passion and creativity with many dignitaries and friends over the years. When not at work, Chris is cooking with friends – usually with a small batch bourbon in hand.
Victoria Rothberg, Owner & General Manager.
Victoria started her hospitality career in high school in Denver, Colorado at Cucina Colore. She then attended New York University and, in addition to her studies, she worked in various capacities for B.R. Guest Restaurants. After graduating Summa Cum Laude from NYU, she accepted a role with Hillstone Restaurant Group. During her time there, she worked as a General Manager at many locations in multiple cities. In 2013, Victoria left Hillstone to join Ted's Montana Grill in Atlanta, where she ultimately held the role of Director of Operations. Victoria is a lover of all food, hospitality, and beverage, and enjoys eating out with friends as much as she does working in the restaurant and serving her guests.
After opening multiple Ted's Montana Grills together and sharing a passion for all aspects of the restaurant industry, Chef Chris and Victoria decided to partner up to realize their dreams. They traveled to a few cities deciding where to land their concept, and both fell in love with Nashville. After scouting for a few years, developing their concept, and testing menu items, the Sylvan Park location became available and they jumped at the opportunity to serve the surrounding community. Chris and Victoria truly are best friends as well as focused restaurant leaders, and they look forward to meeting you soon at answer.
hours.
Dinner
Tuesday – Saturday 4:30pm-10:00pm
Sunday 4:30pm - 9:00pm

Brunch
Sunday 10:00am-2:00pm
Happy Hour - bar top only
Tuesday - Sunday 4:30pm - 6:00pm
location.
132 46th Avenue North
Nashville, TN 37209
To protect the quality of our food, we do not accept to go orders.
Parking is available in the lot behind the restaurant as well as a few spaces out front. We also recommend parking at the McCabe Community Center at the roundabout at Murphy and 46th. If you choose to park on the street please be respectful of our neighbors.
contact.
victoria@answerrestaurant.com
chris@answerrestaurant.com
reservations.
We accept reservations as well as accept walk-ins. Feel free to call the restaurant directly to make a reservation or click the link below. For parties larger than four we ask that you call the restaurant directly.
615-942-0866